HIER SPIELT DIE MUSIK
Immer etwas anders als die anderen: Der Name DJ EXTRAVAGANT ist bei mir Programm. Die weitgehend von mir gespielten Genres, Jahrzehnte und begrifflichen Zusammenfassungen habe ich jeweils zusammen mit einigen als Beispiel ausgewählten Acts hier aufgelistet.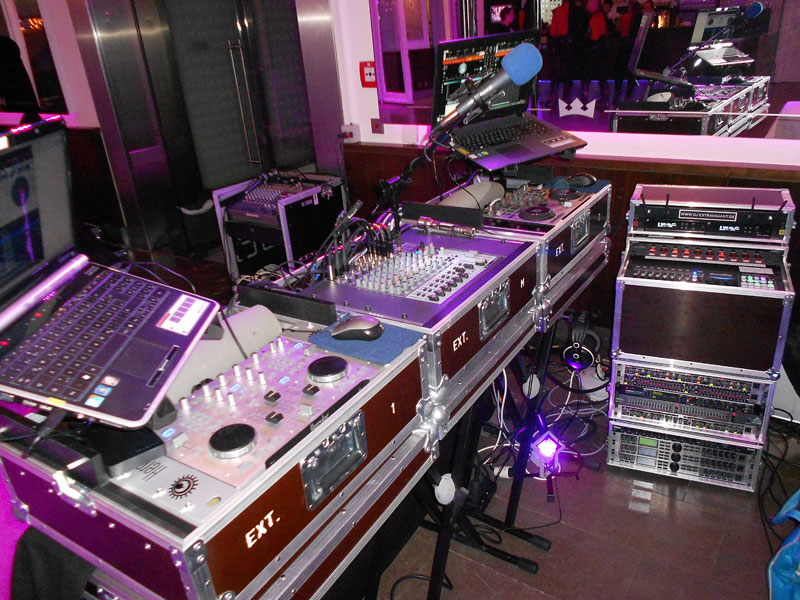 ✓ Rock
RAMMSTEIN, FOO FIGHTERS, BEATSTEAKS, H I M, THE GODFATHERS, BIG COUNTRY, SIMPLE MINDS, THE CULT, U2, BLACK SABBATH, MOTÖRHEAD, AC/DC, ...
✓ Indie / Alternative
NEW MODEL ARMY, THE WEDDING PRESENT, THE SMITHS, PHILLIP BOA AND THE VOODOOCLUB, PIXIES, R.E.M., SONIC YOUTH, PULP, PLACEBO, KRAFTKLUB, ...
✓ Gothic / Darkwave
THE SISTERS OF MERCY, FIELDS OF THE NEPHILIM, THE MISSION, RED LORRY YELLOW LORRY, THE CURE, LONDON AFTER MIDNIGHT, ROSETTA STONE, SUSPIRIA, THE MERRY THOUGHTS, GOLDEN APES, MARQUEE MOON, SWEET ERMENGARDE, AEON SABLE, CHRISTINE PLAYS VIOLA, CLAN OF XYMOX, DEINE LAKAIEN, LEBANON HANOVER, ...
✓ Electro / EBM / Synthpop
DEPECHE MODE, THE INVINCIBLE SPIRIT, FRONT 242, DEUTSCH AMERIKANISCHE FREUNDSCHAFT, NITZER EBB, PROJECT PITCHFORK, AND ONE, BLIND PASSENGER, DE/VISION, THE KNIFE, CHVRCHES, ...
✓ New Wave / Punk / Postpunk
SEX PISTOLS, RAMONES, SHAM 69, JOY DIVISION, THE DAMNED, ADAM AND THE ANTS, BLONDIE, TUBEWAY ARMY, THE UNDERTONES, THE BOOMTOWN RATS, KILLING JOKE, GANG OF FOUR, THE CHAMELEONS, ...
✓ Folk / Mittelalter
THE POGUES, INCHTABOKATABLES, SCHANDMAUL, SUBWAY TO SALLY, IN EXTREMO, SALTATIO MORTIS, TANZWUT, ...
✓ Metal / Crossover
PARADISE LOST, TYPE O NEGATIVE, WITHIN TEMPTATION, THEATRE OF TRAGEDY, MARILYN MANSON, PARA:NOID, NINE INCH NAILS, APOCALYPTICA, CLAWFINGER, METALLICA, BODY COUNT, ...
✓ Coole 80er
NEW ORDER, ULTRAVOX, SOFT CELL, A FLOCK OF SEAGULLS, HEAVEN 17, NEW MUSIK, TEARS FOR FEARS, THE HUMAN LEAGUE, DURAN DURAN, BRONSKI BEAT, BILLY IDOL, SIOUXSIE AND THE BANSHEES, VISAGE, FINE YOUNG CANNIBALS, ALTERED IMAGES, ERASURE, SIGUE SIGUE SPUTNIK, TALK TALK, ...
✓ Coole 90er
HEROES DEL SILENCIO, BLUR, NIRVANA, SOUNDGARDEN, THE CRANBERRIES, OASIS, SUEDE, GREEN DAY, WEEZER, THE SMASHING PUMPKINS, GARBAGE, FRANK BLACK, H-BLOCKX, GUANO APES, PRIMAL SCREAM, THE PRODIGY, UNDERWORLD, FAITHLESS, ...
✓ Coole 00er
EDITORS, INTERPOL, ARCTIC MONKEYS, KAISER CHIEFS, THE WHITE STRIPES, THE STROKES, BLOC PARTY, THE KILLERS, ...
✓ Ostrock / die anderen bands
CITY, PUHDYS, SILLY, PANKOW, KEKS, JUCKREIZ, DIE SKEPTIKER, FEELING B, SANDOW, DIE VISION, ROSENGARTEN, DIE ART, ...
✓ NDW
SPLIFF, IDEAL, TRIO, FEHLFARBEN, EXTRABREIT, NICHTS, FOYER DES ARTS, JOACHIM WITT, PETER SCHILLING, RHEINGOLD, JAWOLL, PRIMA KLIMA, ...
✓ Alltime-Party-Classix
THE B-52'S, IGGY POP, MADNESS, FALCO, DAVID BOWIE, BEASTIE BOYS, KRAFTWERK, SPORTFREUNDE STILLER, THE NAKED AND FAMOUS, KEIMZEIT, DAFT PUNK, MOBY, SEEED, ED SHEERAN, LYKKE LI, ROBYN, EARTH WIND & FIRE, ...
Manche Acts würden sich auch mehreren der hier genannten Genres oder Begriffe zuordnen lassen, manches geht auch als "Pop" oder als "Partyrock" durch. Weitere hier nicht genannte Genres und begrifflichen Zusammenfassungen können nach vorheriger Absprache ebenfalls bei mir möglich sein, auch wenn ich mich dafür nicht als DIE Idealbesetzung sehe...
Dir gefallen die hier genannten Genres und begrifflichgen Zusammenfassungen oder die als Beispiel genannten Acts? Du willst einen solchen extravaganten Soundtrack auf deinem Event haben? Dann stelle jetzt hier eine Buchungsanfrage an mich und sichere dir deinen Wunschtermin!